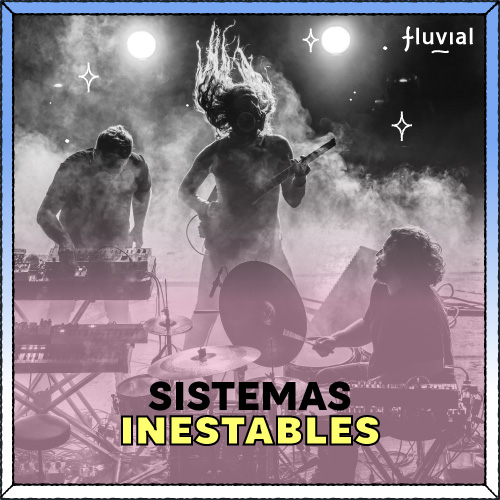 Sistemas Inestables
Sistemas Inestables is a sonic space where repetition and variation intertwine with layers of noise/ambient, forming a fabric that unfolds over time. From this fabric, clear melodies and defined sections emerge, which mark changes in the dynamics of the themes, opening or closing the space and leading the narrative through different landscapes.
Javier, Santiago, and José Tomás operate a hybrid set of instruments, synthesizers, and drum machines synchronized with a minimalist lighting proposal at the limit of their abilities. No images or representations exist in SISTEMAS INESTABLES; it is a concrete and elemental journey.
Since their debut in 2017, they have toured through Chile, Colombia, Ecuador, Argentina, Uruguay, Peru, the United States, Spain, and Belgium, playing at festivals and stages such as Treefort Music Festival [2023], Ecuador JAZZ [2022], Corrientes Peru [2022], Montevideo Instrumental Music Festival [2022], Primavera Sound [2019], Dunk! Festival [2019], LEROCK Fest [2018, 2021], among others.
They released their prestigious first album entitled "O" in August 2018. In May 2021, they presented "O – Live At Dunk! Fest 2019." In late 2021, they released their new material, "Oppidum," the first of three EPs the band is working on. Sistemas Inestables is currently preparing its second US tour and continues to add gigs in several Latin American countries.